The ROBOETHICS Symposium aims to open a debate, among scientists and scholars of Sciences and Humanities, with the participation of people of goodwill, about the ethical basis which should inspire the design and development of robots.
The Symposium is an opportunity to encounter scientists and scholars committed to discuss new and sensitive problems that humankind is glimpsing at the horizon.
Philosophers, jurists, sociologists, anthropologist and moralists, together with robotic scientists, are called to contribute to lay the fundations of the Ethics in the design, development and employment of the Intelligent Machines, the Roboethics.
For this reasons the Distinguished Speakers will report their experience in a general way, with a special focus on the social and ethical problems they are identifying in their fields.
Gianmarco Veruggio
Symposium Chair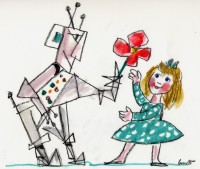 About the Symposium
The Debate
Program
Speakers
Organisation
About Villa Nobel
Useful Information
News/Press
Contacts